Publications
The California Grain and Feed Association offers several free and discounted publications and reference documents.
Please click here to download a document request form. Return your completed form, and any required remittance, to CGFA, 1521 I Street, Sacramento, CA 95814. If you are requesting documents that are free, you may also fax your form directly to CGFA at (916) 446-1063.
PACIFIC SOUTHWEST DIRECTORY
2023 Pacific Southwest Directory (contact office at (916) 441-2272)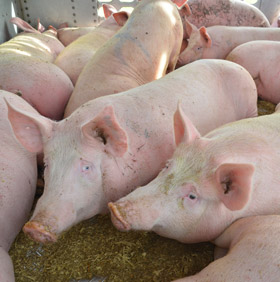 Additional Resources
Dairy Cattle Supply Lien Packet
Contact CGFA to request a copy of the complete packet.
Cover Letter
Table of Contents
Appendix A. Memo
Appendix B. Perfection and Enforcement Checklist
Appendix C. Lien Perfection and Enforcement Information Sheet
Appendix D. Notice of Claim of Lien
Appendix E. Sample Copy of UCC Financing Statement
Appendix F. Notice to Make Payment
Appendix G. Sample Copy of UCC Termination Statement
Appendix H. Dairy Cattle Supply Lien Law California Food & Agriculture Code 57401 et. seq
Environmental and Safety Services
Click here to download the Annual Service Application for Stormwater Program.
Past PowerPoint Presentations and Resources - 2023
2023 Grain & Feed Industry Conference
Technical Session:
What's New in Technology Session:
Mill Maintenance Program:
Past PowerPoint Presentations and Resources - 2022
Grant Opportunities Workshop on October 6, 2022
2022 California Animal Nutrition Conference
What Matters in my Calf Nutrition Program by: Michael Ballou, Ph.D, Texas Tech University
Almond Hulls: Chemical Composition and Feeding Value by: Ed DePeters, Ph.D, University of California, Davis
Optimizing Lactation Lengths of Dairy Cows and the Role of Nutrition by: Albert De Vries, Ph.D, University of Florida
Can Increasing Forage Sorghum Berry Size Increase BPS and Starch Digestibility? by: Juan M. Piñeiro, Ph.D, Texas A&M University
Lactation Performance of Dairy Cattle Fed Contemporary Diets With and Without Rumensin by: Mike Van Amburgh, Ph.D, Cornell University
Fatty Acid Supplementation for Lactating Dairy Cows: Opportunities and Challenges by: Adam Lock, Ph.D, Michigan State University
Effective Nutritional Strategies for Enteric Methane Mitigation by: Alexander N. Hristov, Ph.D., P.A.S., Pennsylvania State University
2022 Annual Convention
2022 Grain & Feed Industry Conference
Working with Contractors and Onboarding Considerations When They Transition to Full Time Employees by

Victoria Dolan, Holden Law Group

Evolution of Feed Mill Automation by Brady Gaalswyk, Easy Automation
Do You Listen As Well As I Hear by Marty Jakosa, Management Consultant/Certified Professional Coach
CDFA Update by Jenna Leal, CA Dept. Food & Ag
Legislative Update  by Anthony Molina, California Advocates/CGFA
Behavior Based Observation Safety by Arturo Trejo, Foster Farms
Emerging Regulatory Issues within OSHA and Cal OSHA

(click here) by Jess McCluer, National Grain and Feed Association
(click here) by Bill Krycia, The Zenith Company

Steam by Travis Berry, Spirax Sarco
Agriculture, Environmental Sustainability and Climate Change by Alison Van Eenennaam, PhD., UC Davis
Nuts and Bolts: Managing Essentials by Anna Genasci, Stanislaus County Farm Bureau
360 Degree Communication Within Your Sphere of Influence by Marty Jakosa, Management Consultant/Certified Professional Coach
Past PowerPoint Presentations and Resources - 2020
2020 Grain & Feed Industry Conference
Past PowerPoint Presentations and Resources - 2019
2019 Annual Convention
2019 Grain & Feed Industry Conference
Past PowerPoint Presentations and Resources - 2018
2018 Grain & Feed Industry Conference
Labor Law Issues and Compliance by: Adrian Hoppes, Holden Law Group
FSMA, Past, Present and Future by: Matt Frederking / Presented by: Geoff Holland
CDFA Safe Program, FSMA and VFD's. by: Jenna Areias and Samanta Moran-Defty, CDFA
Safety – Managing Injury Risk at Grain Handling Facilities by: Matt Shurtliff, J.D. Heiskell & Co.
Safety Panel by: Arturo Trejo, Foster Farms; Charles Davenport, Associated Feed & Supply and Matt Shurtliff, J.D. Heiskell & Co.
Solutions to Common Grinding Problems by: Ryan Dietzenbach, CPM
Optimizing Your Plant's Weighing Equipment by: Rory Ward, Quality Scales Unlimited
Careers and Internship Program by: Rhonda Mercadal-Evans from California State University, Monterey
Pest Control Organic vs. Non Organic by: Mike Altomore from Agrecom Inc.
Hazardous Waste Disposal by: Denise Holmes from Foster Farms
Communicating – Why Is This So Hard? by: Marty Jakosa, Human Resource Manager/Certified Professional Coach  *Little Paul Story
Past PowerPoint Presentations and Resources - 2017
2017 CGFA Annual Convention Business Session Power Points
2017 Grain & Feed Industry Conference
​​Life Cycle Assessment of the Feed Supply Chain for a California Feedlot by: Samantha Werth, UC Davis
The Challenge of Recruiting into Ag Careers by: Shannon Douglass, CalAG Jobs
Leadership: Some Things to Consider by: Marty Jakosa, Certified Professional Coach
GMO Labeling and The Impact on the Feed Industry Update by: Alison Van Eenennaam, PhD., UC Davis
Use Your Personality Type to Empower Your Safety Program by: Randy Hultgren, Foster Farms
Preparing to Modernize Your Feed Mill Automation and Control Systems by: Jason Hunt, Factory Technologies Inc.
Feed Plant Efficiency: Steam Plant by: Rob Schmitz, RF MacDonald Co.
Boiler Room 101 by: Brian Dolan, RF MacDonald Co.
Retention Time of Grain in the Steam Chest by: Peter Greuel, Ph.D., SarTec Corp.  and Jim Grossenbach, GMO Livestock Products
Food Safety Modernization Act (FSMA) Update by: Cathryn McCandless, CA Dept. of Food & Ag
Veterinary Feed Directive (VFD) Update by: Jessica Darneille, State Liaison, USDA
Ransonware and Other Cyber Crimes by: Dennis D. Guertin, Special Agent Partnership Coordinator, Federal Bureau of Investigation
Managing Millennials by: Marty Jakosa, Certified Professional Coach
Past PowerPoint Presentations and Resources - 2016
2016 Annual Convention Business Session Power Points
2016 Grain & Feed Industry Conference
​Keynote: The Food Morality Movement: Kevin Murphy, Food-Chain Communications (www.truthinfood.com)
Veterinary Feed Directive (VFD) Overview & Update
Nutritionist Perspective on Ingredients: Peter Karnezos, Ph.D., PMI Nutritional Additives
Employee Training Video Series:
Cal/OSHA Enforcement Branch Update:  Jon Weiss, District Manager, Cal/OSHA  (click here)
7 Steps for Successful Hazardous Monitoring:  Brian Knapp, 4B Components Ltd. (click here)
Air Compressors:   Steve Arshop, Kaeser Compressors (click here)
California Labor and Employment Updates: Glen Williams, The Saqui Law Group
FDA Presentation on FSMA Final Rule for Animal Food: Jennifer Erickson, Center for Veterinary Medicine (click here)
CDFA Feed Inspection Program Update – Jenna Areias, Agriculture Program Supervisor IV (click here)
Past PowerPoint Presentations and Resources - 2015
2015 Storm Water Workshop Presentations
CGFA 2015 Annual Convention
Past PowerPoint Presentations and Resources - 2014
Grain Handling Safety Seminar October 15, 2014
CGFA 2014 Annual Convention
Past PowerPoint Presentations and Resources - Various
Grain & Feed Industry Past Conferences
Top Regulatory Issues Facing the Grain, Feed and Processing Industry in 2014
(Presented by Jess McCluer, National Grain & Feed Assn.)
Forklift Maintenance
(Presented by: Audie Burgan, JM Equipment Co., Inc.)
Food Safety and Modernization Act Update
(Presented by: Matt Frederking, Ralco Ag Solutions Inc.)
Update from CDFA on Model FSMA Plan Developed for the CA Feed Industry
(Presented by: Jenna Areias, Mike Davidson, Samanta Moran)
Railcar: Mover Safety
(Presented by: Tom Sillers, Pacific West Systems)
Locomotive Inspection Process
(Presented by: Phillip Verstegen, South West Locomotive Repair)
Regularly Scheduled Track Inspections
(Presented by: Peter Schulze, H & H Engineering Const., Inc.)
Outsourcing As An Option for Trucking
(Presented by: Rodney Nye, JB Hunt Transport Inc.)
Regulatory Issues Facing the Trucking Industry
(Presented by: Chris Shimoda, California Trucking Association)
Mixers
(Presented by: Mark Daniel, Evonik Industries)
Pellet Conditioning As It Relates to Pellet Quality and Feed Safety
(Presented by: Greg Alles, Andritz NA)
Dealing With The New Boiler Emission Regulation
(Presented by:Doug Vickery and Brian Dolan, RF MacDonald)
Introduction to Key Interlocking And Their Use To Enforce Machine Safety
(Presented by: Carl Pancutt, Castell Interlocks Inc.)
Solar Panel Concept and Options for Customers
(Presented by: James Gillespy, Pacific Power Renewables)
Energy Saving Measures for Feed Mills
(Presented by: Justin Westmoreland, PE, Alternative Energy Systems Consulting)
Interactive Human Relations Workshop
(Presented by: Marty Jakosa, Human Resource Manager/Certified Professional Coach)
Fire Fighting Operations Involving Grain Handling Facilities
(presented by Larry Phillips)
Hazards Associated with Grain Silos
(presented by Larry Phillips)
Feed Food Modernization Act Update
(presented by Jenna Areias, Mike Davidson, Kevin Clutter)
iTRACK Line of Trucking Products
(presented by David Schneider)
On-Board Cameras by DriveCam
(presented by Julie Stevens)
Roll Speed Measurements
(presented by Scott Anderson)
Flow Measurements
(presented by James Seagraves)
Cleaning Grain Silos / Rail Cars
(presented by Jeff Rampenelli)
Labor Laws
(presented by Michael Saqui)
Human Relations
(presented by Marty Jakosa)